November 1, 2023
I woke up at 6:20 am. I had slept through the night again. I woke Angel up, she ate breakfast and we got ready to go. We listened to "Hank the Cow Dog" on the way to work. When we arrived, I got Angel started on her school work. I checked on her while I cleaned. She seemed to be having trouble staying focused and was flopped over on the couch. I moved her to a desk and chair. That made a big difference, she flew through her school work after that and did a great job. Today she worked on phonics, multiplication and counting money.
When I finished working we went to story time at the library and checked out a couple of "Hank the Cow Dog" books….books 3 and 4. There are 50 books in the series and I can find books 1,2,5 and 6 on audio on YouTube. I am going to record myself reading the books to Angel and then she will have all of them to listen to. I look forward to the day when she can read well enough that she can read them to me.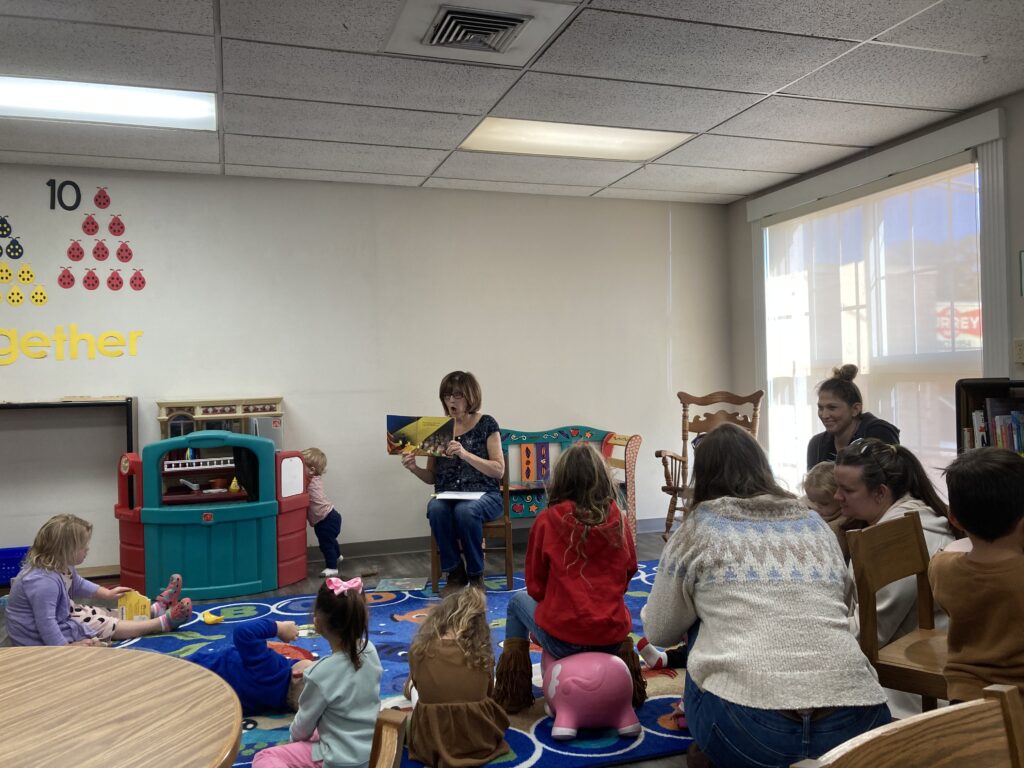 Next, I delivered the newspaper to businesses around town. Angel listened to her audiobook while I did the paper route. When I was around Angel's age, I had a paper route, it was my first job. I remember riding my bicycle around delivering the paper. It must be why I enjoy delivering the papers so much. It reminds me of being a kid. I also delivered papers for a few years when I was going to college as a single mom. I would buckle up the kids in the car while they were asleep at 3 am and be finished by 6:30 am. I would wake them up when we got home. They would get ready and go to school and I would tap a nap and go to my college classes. I was sick a lot back then, living off of fast, cigarettes, Pepsi, antidepressants and always taking antibiotics for some sort of infection. Yet, I still worked and went to college and had fun with the kids. I am grateful for that person I used to be and I am grateful for the person I am now.
After having some great conversations with people along my route and finishing delivering the papers, we went to Gattis pizza and had the salad bar. Then we headed home, listening to "Hank the Cow Dog" on the way. When I got home, I wrote my blog, briefly talked to Christopher and went on a walk in the woods with Angel and the dogs. We had a wonderful walk. I cleared up some of the trails and will come back sometime with the side by side to pull some big logs out of the paths. The weather was perfect and the walk was invigorating. I felt alive and energized and could have walked out in the woods for hours. 

We arrived back in time to take a bath before supper. I skipped supper and laid in the banana hut reading "Firefly Lane" until it was time to leave for Bible study at the Cowboy Church. Bible study was good and Angel had fun playing with the kids.
When we arrived home, we got ready for bed and fell asleep listening to "Hank the Cow Dog".
I am grateful for libraries.
I am grateful for woods.
I am grateful for lovely weather.
I am grateful for newspapers.
I am grateful for great conversations.
Thank you for reading my blog and being a part of my life. I dearly appreciate you.
Love,
Victoria