November 10, 2023
I woke up at 6 am. I prayed my thanksgivings and gratitude. I got up and made tea. I cut up a bunch of bananas and put them in the dehydrator to make banana chips. After Angel got up and ate, we did school. She worked on phonics and reading. Then she went to town with Christopher to clean a church. I laid down in the banana hut and read but I was feeling so tired and snuggly that I fell asleep. I took a 2 hour morning nap and it was a wonderful, cozy, misty morning nap.
When Christopher and Angel arrived home, Christopher and I put plastic over the 25 foot hoop house to make it into a greenhouse for the winter. I thought it would be more difficult than it was but with two people on each end, the plastic sheet slid right over the top. We secured the sides with pavers and I hung blankets on the front entry. Then it was done. Instant greenhouse! I was grateful for the help and so happy it was done. I'd been in a funk the past week or so feeling like I couldn't get the help I needed to get things done that I want to do. Christopher seems so overwhelmed with his projects all the time that I feel awful even thinking about asking him for help with mine and my friends are all super busy with their lives. I see now that I didn't give this issue to God and ask for guidance on a solution. I was carrying the burden instead of resting in faith. Today, though, I received the help I needed and I was extremely grateful and I thanked  Christopher. He was really happy with how smoothly it went as well. I moved my citrus trees that are in pots inside the greenhouse and harvested a bunch of limes. Angel was excited about the lime harvest and carried them into the house. I will plant the citrus trees permanently in the greenhouse and start some crops for the winter within the next couple of weeks.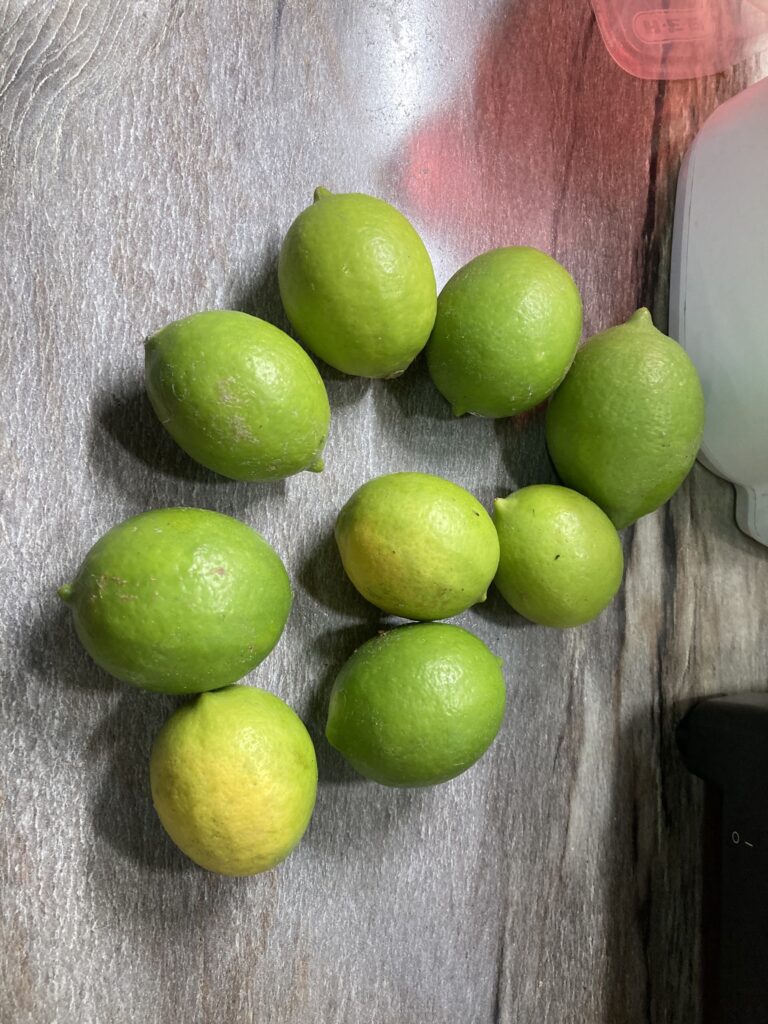 I drove the side by side with Angel to get some packages that were delivered. Then we went into the banana hut and put together some Christmas gifts. I had bought gifts throughout the year and stored them in the attic of the banana hut. It was fun pulling them all out and figuring out what gifts were going to whom. I made a list and got all the gifts organized while Angel made Christopher a present for his up coming birthday on the 17th. When we finished we went for a walk in the woods. I am basking in the fall weather we've been receiving. I really enjoy the slight chill in the air, it feels invigorating and the 50's at night is perfect sleeping weather.
After our walk, we took a long hot bath together. We had fun talking. Angel was telling me stories she had heard. It's amazing how she can repeat stories and movies word for word. We also talked about visiting a Native American reservation soon. Angel is very interested in Native Americans and wants to be just like them. So I've added a lot of information about them into her school work and now we will be going on a field trip to visit a tribe soon. It is great fun for both of us.
When we finished bathing, Christopher had supper ready. I ate a big salad and we all said our gratitudes around the table. Then I did the dishes and got ready for bed. Angel and I gathered in the banana hut while Christopher showered. I read 2 chapters out loud from "Hank the Cowdog" book 3. Then Christopher joined us and I read one more chapter out of "Hank the Cowdog" and read 2 chapters from "The Monk Who Sold his Ferrari". We talked for a while, then we all said our good nights and went to bed. Angel slept on the trundle bed and listened to "The Boxcar Children" on audio. I finished reading "Firefly Lane" and I was glad it was over. It was one of those books that I wasn't really liking but I kept reading it to see what would happen next. I turned out the light and we went to sleep around 9 pm.
I am grateful for help.
I am grateful for lovely weather.
I am grateful for limes.
I am grateful for baths.
I am grateful for morning naps.
I am grateful for family.
Thank you for reading my blog and being a part of my life. I dearly appreciate you.
Love,
Victoria