October 27, 2023
I woke up at 6 a.m. I had slept through the night. That felt good. I made tea and talked to Christopher briefly before he left for work. My plan was to spend the day at home. Angel was up and eating breakfast. When she was dressed and ready for the day, we did school. We had a lot of fun. It was her first day of starting multiplication and she took right to it. Next we worked on phonics. She is improving a lot and remembering letter combination sounds. After recess I read her a story about Native Americans in Texas and had her answer questions about the story afterwards. She retains stories really well and can repeat them back to you almost word for word. She is very interested in Native Americans, so I told her the other day I would incorporate learning about them in her schooling. Next, she drew a pictograph, a drawing that tells a story. I'll show you the drawing and see if you can read what it means. I'll post the answer at the bottom of the blog post.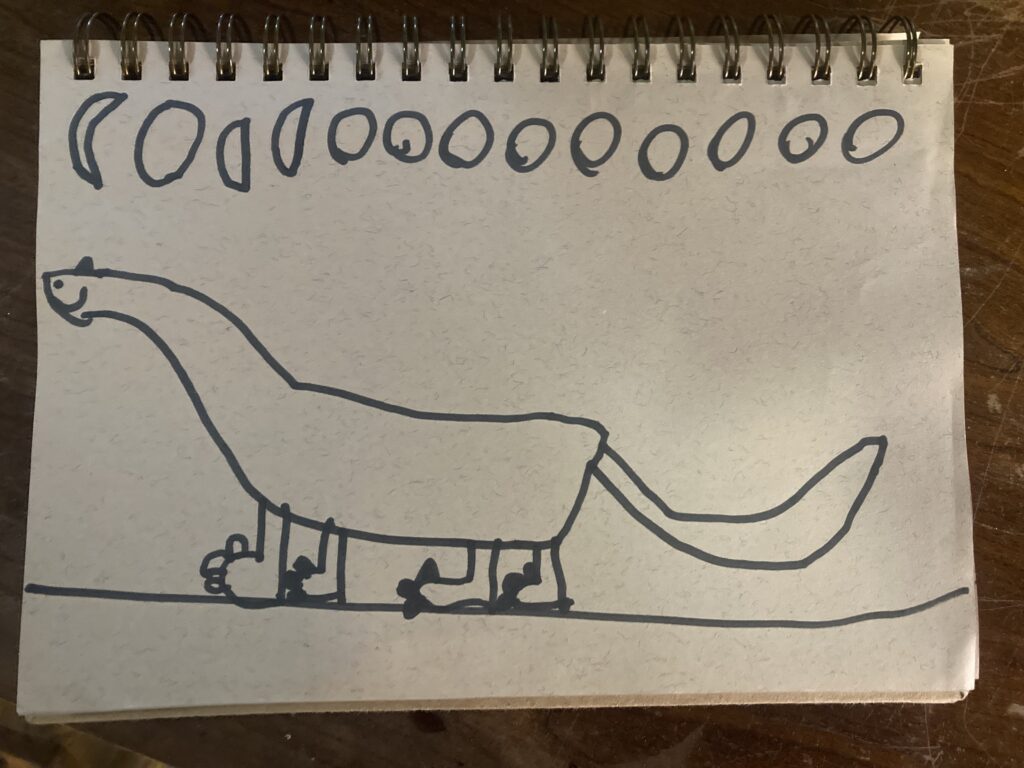 When school was finished, Angel played on her bed with her dog and I took a hour long nap. I slept hard. It felt good to catch up on sleep. When I woke up I made Angel lunch and cleaned the banana hut. Then I rested, relaxing my mind and my body. It was a rainy day, a perfect day to rest.
Later on, I ate a salad, started a bath and made Angel supper. Then I did a life coaching session over the phone for an hour. The session went great. I really enjoy coaching. It is a gift and I am grateful for it. My life's purposes, writing and coaching. They are fulfilling.
When I got off of the phone, I took a bath with Angel. Then we got ready for bed and went in the banana hut. I taught Angel a new song on the xylophone that she practiced for a while. I was tired and started drifting off to sleep. Angel stopped practicing her song and worked on her dry erase phonics workbook. Christopher came in and we talked for a while but I was so tired I kept drifting off to sleep. I was still catching up from so many sleepless nights earlier in the week. I went to sleep officially around 8:30 p.m.
I am grateful for a day of rest.
I am grateful to do school with Angel.
I am grateful for sleep.
I am grateful for another day.
Thank you for reading my blog and being a part of my life. I dearly appreciate you.
Love,
Victoria
The pictograph story is: dinosaurs lived many many moons ago.