November 12, 2023
Chance woke me up at 7 am by breathing on my face. I pulled the sheet up over my head. I could still feel Chance breathing on me. I opened my eyes and Chance was staring at me from under the sheet. I laughed which woke up Little Bit, he starting jumping around licking my face. "Ok, ok", I laughed, getting up to let them out. Laying back in bed, I appreciated the luxury of sleeping in on this drizzly Sunday morning. Focusing on my breath, I did a full body relaxation session and said my prayers of thanksgiving and gratitude.
The kitchen was warm and lively when I came in to make my tea. Angel had already eaten and was talking at full speed still in her pajamas. I suggested she get ready for church. "Today is not Sunday because yesterday was not Saturday", she instantly debated. I assured her that today was indeed Sunday and yesterday was indeed Saturday. "Are you going to get ready for church or are you going to argue about which day it is", I asked her. She went in her room and picked out her favorite church dress. I got myself ready and wrote down some goals for the day.
Outer goals
Walk in the woods
Plant citrus trees in greenhouse
Write blog
Inner goals
Practice kindness
Remember to breath deeply
Do my best
We were warmly greeted when we walked into church. Several people gave me a big hug and shared beautiful encouraging words with me. I was brought to tears many times by all the loving kindness I was receiving from so many people. I thoroughly enjoyed the service and the sermon reminded me to keep my focus on God and the good.
It was raining by the time we arrived home. We changed out of our church clothes and I talked with Christopher about how I wanted to get a small shelf to organize a small closet area in the hallway. I got to thinking that I had a small shelf in the banana hut attic. I went to check and sure enough, it was there. I had to rearrange and reorganize the attic in order to get the shelf out but I was happy to do it and it looked great when I finished. Now I was on an organizing roll. I brought the shelf into the house and worked my magic on the closet area. It looked much better when I finished but why stop there. I organized Angels school supplies, organized the top of the shoe chest and organized the winter mittens. Then lastly, I organized the west wall of the kitchen under the windows to get it ready for our little mini Christmas tree. Since the space was ready, Christopher went ahead and got down our little Christmas tree from the attic. He set it up and I decorated it. The house now has a warm fuzzy Christmas feel to it and looks so nice.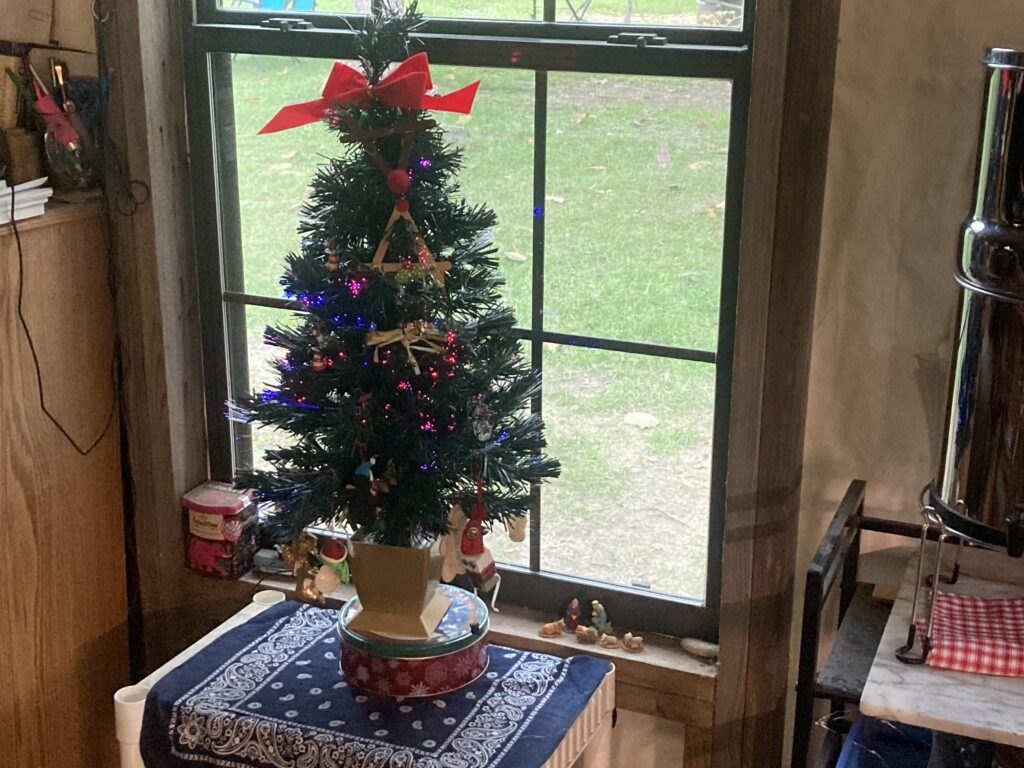 Remembering my goals for the day. I went the the greenhouse and planted the citrus trees in the ground. I showed Christopher my handy work, then we sat in the banana hut relaxing and talking for a while. Christopher left and I started writing my blog until I remembered that I still hadn't went on a walk in the woods. I had an hour before it was time to take Angel to Awanas and it would be dark when we got back. I gathered up the dogs and Angel. We walked to the fairy village and back and we still had 20 minutes until it was to leave so I wrote some more of my blog. I was caught up in a writing zone when Christopher snapped me out of it asking if I was still leaving at 4:15 pm. I looked at the time, it was 4:19 pm. I laughed and said no, we are leaving at 4:20. I called out to Angel to get in the car and we headed out.
I waited in the car while Angel was at Awanas and wrote my blog. I finished writing right when it was time to pick Angel up. She had a great time and on the drive home talked about all she had done during her class. When we got home Christopher said that he had a bath ready for us. I said we had already taken one before we left but later on I realized we hadn't taken a bath before we left, I had mixed up days. Anyway, Angel got in the bath and I didn't. I edited my blog and published it instead.
After we were all ready for bed, we gathered in the banana hut. Angel was bouncing off the walls full of energy, so we did a deep breathing session together. Her energy was still zipping around, so I asked her to play us a song on the xylophone. She excitedly played a couple of songs erratically but once she started focusing on getting the notes just right, her energy shifted and she became calm and centered. When Angel finished playing her songs and she was ready to listen, I read a couple of chapters from Hank the Cowdog book 3 and one chapter from The Monk Who Sold His Ferrari. When I finished reading Christopher was almost asleep. We all said our good nights and went to bed. Angel and I listened to Boxcar Children on audio until we fell asleep.
I am grateful for music.
I am grateful for church.
I am grateful for organizing.
I am grateful for rain.
I am grateful for kindness.
I am grateful for writing.
Thank you for reading my blog and being a part of my life. I dearly appreciate you.
Love,
Victoria