I woke up at 1:30am. I read for a while. Angel woke up as well. She drew in our journal and played with her stuffed animal friends.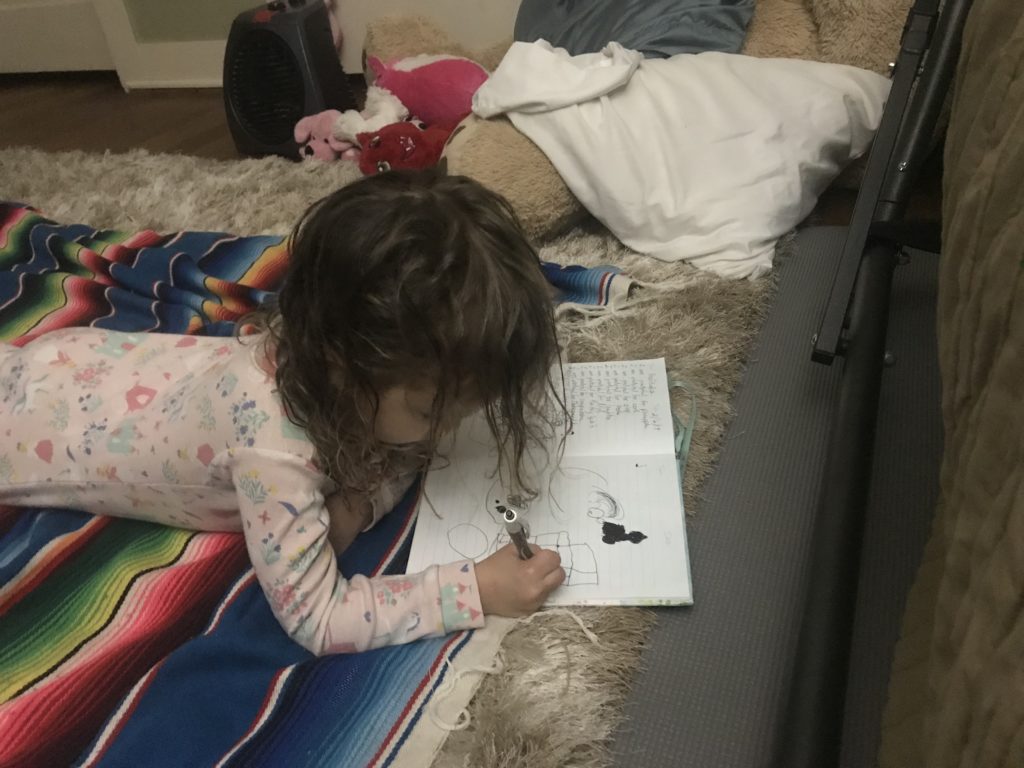 We went back to sleep around 4:30am. We woke up again at 8am.
We got up. We had a 64oz. banana, lettuce, flax seed smoothie left over from yesterday. Angel had some of that along with an avocado. I made another smoothie with bananas, spinach, strawberries and water. I also juiced some oranges. I opened up a young coconut. I drank the water and have Angel the meat to eat. She had a little bit but didn't like it. It wasn't the soft meat that she likes. I drank one glass of the OJ and put the rest in the fridge. I made a glass of herbal tea and sat down to do my taxes.
Since it was my day off and it was cold and rainy outside, I figured this was the perfect time to do taxes. I got completely lost in the process of adding up recipts and dissecting bank statements. Angel played with her toys while I worked. Then the phone rang. It was my clients asking if I could come in to work today. I looked at the time, it was 1pm. Wow, I'd been at this for 3 hours. I hadn't drank my tea or eaten. Angel had been patiently waiting for hours for me to get her more smoothie. In the meantime she had been snacking on my homemade banana chips. https://squareup.com/store/crazybananalady
I told my clients that of course I would come in but I would probably be a little bit lat because I would like to finish doing my taxes. They were more than happy to have me come later. I usually leave to work for Peggy and George at 2pm. It's an hour drive and I work from 3pm to 6pm. They are absolutely wonderful people and pay me for an hour of my drive time.
I got off the phone and went back to working on the taxes. I finally finished at 2pm. Yay!! My taxes are done!!! Happy dance!!!
I put everything away and drank a whole bunch of smoothie. Angel drank a bunch with me as well. We got ready to go to work. I packed up what was left of our first smoothie and the other smoothie was still all there. Then we headed out the door. My roommate Nick was just finishing up washing my car. Wow! That was really nice. Thank you Nick! I helped him finish and we headed to work. On the drive I listened to an audiobook and drank more smoothie. Angel played on her leap pad and ate banana chips. I had a slight headache, so when we got into Round Rock I stopped at the chiropractors and got an adjustment before going in to work.
At work I was very busy. I did laundry, cleaned the kitchen and bathrooms, walked the dogs and went to the store. Angel watched cartoons with George. When work was finished my headache was worse. I drank a harmless harvest coconut water I had bought at the store and had some more smoothie. It eased the headache a little bit.
On the drive home, Angel fell asleep and I drank more smoothie while listening to an audiobook. I was so into the book that I was home before I realized it. I put Angel to bed, unloaded and put away groceries, finished the 2nd smoothie, briefly talked to the Airbnb guest, took a shower and was getting ready for bed when the phone rang. It was someone calling from messenger. Hmmm…interesting. My phone goes to "do not disturb" mode at 9pm. It was 8:55 and it a call from Ted Carr. Really? Ted Carr was calling me? I answered of course. Ted wanted to ask me questions about my coaching business. We talked for about 20 minutes. He asked me questions and I answered them. It was a fun conversation.
After hanging up, I got into bed and listened to the audiobook until I fell asleep.
Thank y'all for reading my blog and being a part of my life. I really appreciate you!
With love and gratitude,
Victoria