I woke up at 7:30am. I dozed happily for a few minutes before getting out of bed. It was a day off of work. Yay! Once I was up I went into the kitchen and made homemade pumpkin seed milk. Then I made 2 64oz. smoothies with 5 bananas, 5 strawberries, a head of romaine lettuce, aćai juice, agave nectar and pumpkin milk. I put them in the fridge and drank a large nice refreshing glass of fresh squeezed OJ. I called a mechanic shop about fixing what I thought was a throw out bearing in my truck. They said to bring it in and they would look at it.
I took a shower, did my stretches and meditation. I got dressed, woke up Angel, got her dressed and put her in the truck with some smoothie to drink. I put the wagon in the back of the truck in case we had to walk home and drove to the shop. The guy listened to the truck with the clutch engaged and said it was a throw out bearing. He would order the parts and I could bring it in later that week.
I drove back home and decided to walk to the thrift store to drop off our donation baskets. Angel rode her tricycle and I pulled the wagon. The walk was delightful. The weather was cloudy and in the 60's with a nice gusty breeze. It was heavenly. A friend called and I had a very uplifting talk with her on part of the walk.
At the thrift store I dropped off our donations and we looked at the toys briefly. I messaged a friend about my truck, thinking that he might be able to help me replace the bearing myself. He messaged back that he could but it wouldn't be until next week and that he had a really busy day at work and would call me later.
Angel and I left the thrift store and walked around downtown seeing what was all there. We recently moved to this town and haven't explored it much yet. I stopped by the chamber of commerce and found out all I needed to know about joining while Angel colored. When we left the chamber we took a break and drank some smoothie before continuing on. Angel was having great fun riding her tricycle all around.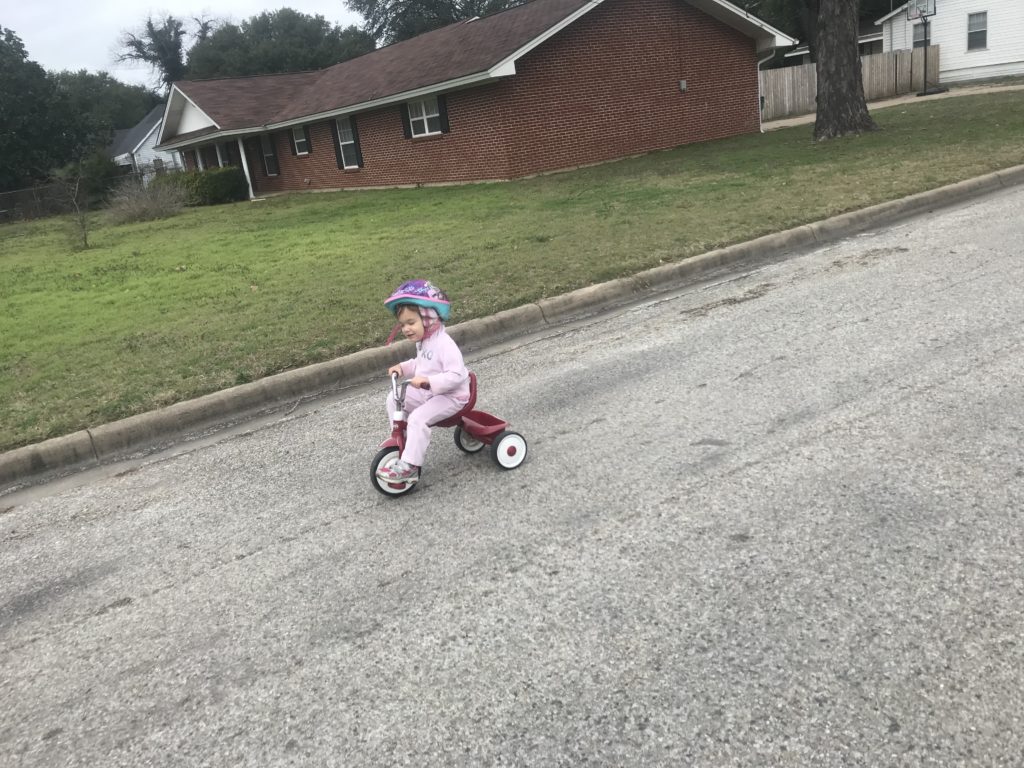 Eventually we ended up at the library. We played at the library for an hour or so. Here is a town we created.
We left the library, Angel rode in wagon on the way home and drank some smoothie and ate some fresh coconut that I brought along. I had gotten it out of a young coconut yesterday. On the walk I recieved a phone call from the mechanic shop. It would be $488 to replace the bearing. I thought about still having my friend help me do it for a fraction of the cost. I quickly decided I didn't want to wait until next week and I didn't want to take the time to do it myself. So I told the shop I would go ahead and schedule an appointment with them to get it fixed on Thursday….knowing with gratitude that I would have the money when I needed it.
When we arrived home I drank the last of the jar of smoothie and started working on a few projects I had started the other day. ( I had had to abandon those projects the others day when my drill ran out of power. ) The first project was taking out some broken glass from a greenhouse window and replacing it with some older windows that I had lying around. I took the drill off the charger and got to work. The drill didn't even last 5 minutes without losing its charge. It was an old cheap drill, so I decided it was time to buy a new one.
Angel and I walked 2 blocks to the hardware store. I got a very nice dewalt drill that had a 3 year warranty and would last a long time. I payed thinking how blessed I was to have the money to buy it. When we got home I finished the greenhouse project with a new super powered drill. Then I moved on to the next project of hanging up an outside hammock. I got the anchors in but the hammock wasn't long enough. So back to the hardware store we walked for some chain, this time my roommate Nick joined us because he needed something from there as well.
I got the chain and successfully hung the hammock.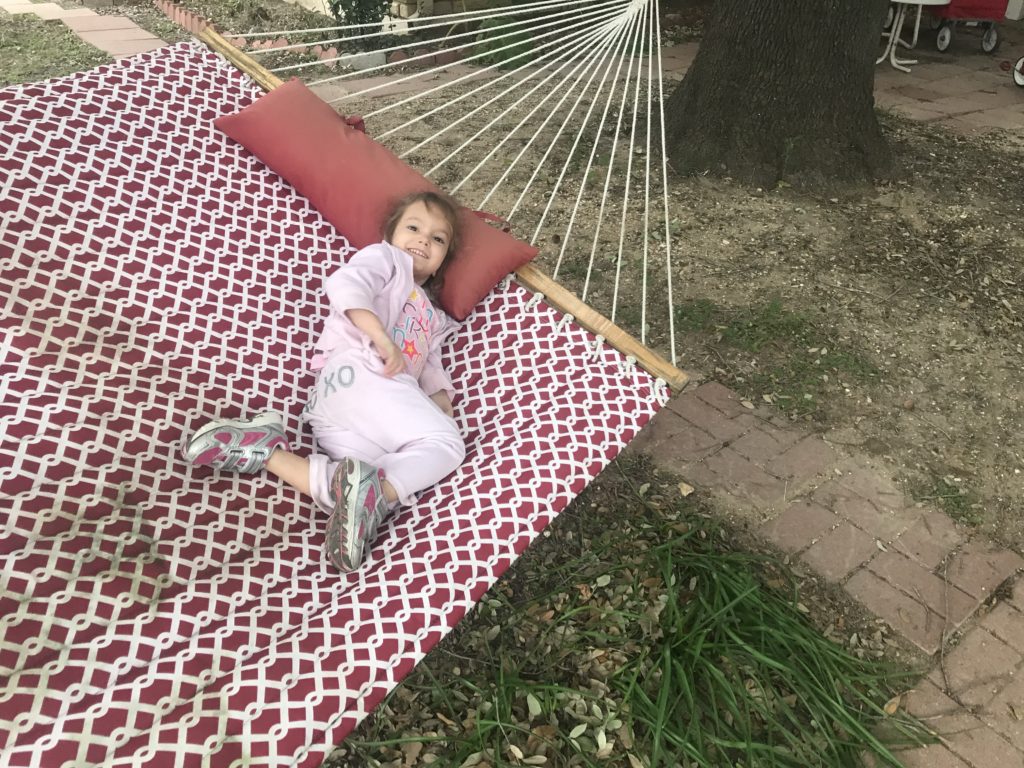 Next, I moved on to helped my daughter Savana install a cat door in the RV, make a platform on the outside of the RV so the cats could reach the cat door from the outside and help her organize the RV. I made a temporary make shift platform since I didn't have the wood needed to make a nice one. It doesn't look nice but it works for now. Then I installed the cat door. I had fun using the saw to cut a small piece of wood to fill in the gap. It turned out perfect! It's a good day when you get to use the drill and the saw! Lol.
Then Savana and I got started organizing the RV. We got most of it done before she needed to leave. It looks so much nicer. I was feeling very satisfied with a day full of successful projects. Angel and I went in the house. We shared drinking the other smoothie. Angel also had an avocado and I had some honeydew melon. When we finished eating we took a shower and Angel stayed in to have a bath. While Angel bathed, I wrote out my daily gratitudes and talked on the phone to my friend that was going to help me fix the truck. We had a fun conversation. Then I talked to my roommate Nick.
Angel got out of the bath, she was very proud that she cleaned up all her bath toys by herself. She got her PJ's on, then she drew in our gratitude journal while I wrote my blog. Next, it's story reading and bedtime.
Thank you for reading my blog and being a part of my life. I dearly appreciate you.
With love and gratitude,
Victoria