Dear Diary and Friends,
Last night or actually this morning, I woke up at 3am and was completely inspired. I'm in a local music club and October is the month I signed up to host along with another lady. We have our meeting the 3rd Monday of the month and so I had been getting ideas together over the past couple of weeks. I had asked my daughter Savana and her boyfriend to participate and they had found a song to sing and play guitar that went along with the theme for the month which is Harvest Moon. So when I woke up in the middle of the night I was inspired to find a song that I would like to sing. I got on youtube and found the perfect song. I felt super excited and was looking forward to sharing my ideas with the other lady that was hosting with me.
I went back to sleep and Angel woke up around 9am. which was really late for me but I was grateful for the extra sleep. We got up and took a shower. After our shower I cut open 2 coconuts and shared the water with Angel and scraped out the meat for her. Then I made some fresh squeezed carrot, apple, cucumber and ginger juice as well as some fresh squeezed OJ. It's my day off of work, so I took my time and enjoyed myself. When I was finished I called the lady I'm hosting with in music club to share with her my ideas and see what ideas she had. She answered the phone and I told her who I was and that I wanted to talk about what we would do for our program. She brusquely told me that she had already planned the program and everything was already in place. I was stunned and confused. I asked her if she had planned on me being a part of it at all and she said that I could probably do some of the readings. I explained to her that my daughter and her boyfriend had already been practicing a song and that I had a song I wanted to sing, I told her what song it was. She said that song was already in the program and that she had already printed the program up. I felt the feeling of rejection and hurt and anger come over me. I don't practice stuffing my feelings anymore. So I let the tears come as they bubbled up. I told her I was very disappointed and thought we were supposed to do the program together. She said that she was very busy and needed to do it early. I was still confused on why she did not talk to me about it at all in anyway whatsoever. This also confirmed my feeling of not really being accepted into the group….of course my mind jumped right on that as a verified confirmation. The lady relented a little with a sigh and said that she could probably fit my daughters song into the program and for me to email her the names of the people singing and playing. I thanked her and hung up.
I called my friend Pam (who invited me to join the music club a couple of years ago) to talk to her about my feelings and whether the music club is really something I want to continue going to. She was very comforting and encouraged me to stay in the club. Then I called another good friend and talked to her. When I hung up the phone I decided to let it go. Even though I couldn't see how this was a good thing, I had faith that this situation was for my benefit in some way. So I wrote out my gratitudes and spent some time in meditation.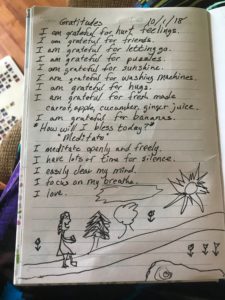 Then I played puzzles with Angel for a while and that was a lot of fun.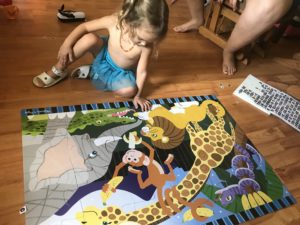 Then Savana came back from the store with a pumpkin. She took Angel outside and they had fun craving the pumpkin together.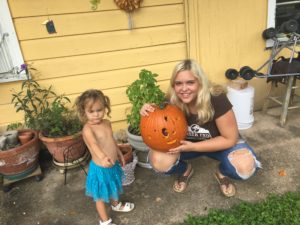 I took this great opportunity to start watching a movie "The Guernsey Literary and Sweet Potato Pie Society". I got about 20 minutes into the movie and halfway into drinking my juice when the girls came back in and wanted me to take a picture of them with their pumpkin. I was glad to do that. Then Savana took Angel into to her room to hang out for a while. Yay! I went back to my movie. A few minutes into it my good friend that I had talked to earlier called again. She asked how I was feeling after being upset that morning. I told her I had let it go. She wanted to know how I did that and she started sharing with me some things, she was wanting help with something and I didn't know how to help her. So I closed my eyes and focused on my breath. Then I relaxed and connected to her energy vibration rather than her words. The Holy Spirit came over me as it does when I do consulting with people. Words of strength and truth and wisdom were spoken through me and I felt blessed to listen to them myself as they were shared.
I got off the phone, made a big bowl of banana nice cream and went back to my movie. Shortly after Angel came out of Savana's room crying because Savana was leaving with her boyfriend and Angel couldn't go. I held her a while until she felt better. She got out some of her toys and wanted to play. I told her I would play later but that I wanted to finish my movie. Then Angel said she wanted mango. I got up and made her a mango and went back to my movie. Angel started eating it but it wasn't very good so she spit it out. I got up and checked and sure enough, it wasn't a good one, so I cut up another one and it wasn't good either and there were no more ripe mangos. I offered her an avocado but she didn't want it. So I sat down and started watching the movie again. Angel started crying saying she wanted an avocado. I felt myself getting frustrated. I just wanted to finish the movie! I got up and put avocado in a bowl for Angel and explained to her that after that I was going to relax and finish watching the movie. I started the movie again and Angel said she wanted juice. I decided that I wasn't going to get frustrated and that Angel could wait. I told her she could wait until I was finished. She started whining and I assured her that she could wait. I explained that I would be with her after a while but right now I was taking time to myself.  She decided to happily put stickers on my chest and play with her toys while I finished watching the movie. Ahhh…yes…sweet relief. I was able to finish the movie and start writing my blog.
While I was writing my blog my friend Yuliya came into talk to me about going on a walk. She was drinking a coconut which made Angel decide she needed coconut. I told her she would still have to wait but Yuliya volunteered to give her some coconut meat and I was very grateful for that. Angel happily ate her coconut meat while I finished writing my blog up to the current time.
Then Yuliya, Angel and myself headed out for a walk. It was a beautiful evening and the temperature was perfect.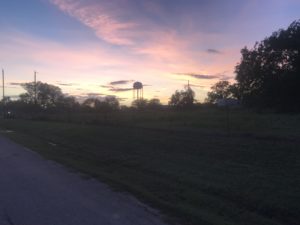 I had brought a long a couple of old pears that we gave to the neighbor horse Rein. We had great conversations and it was a very peaceful time.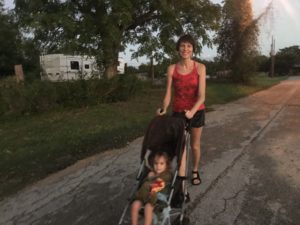 Yuliya pushed Angel the whole way in the stroller so that gave me a nice break of being able to walk freely. On the walk I suddenly remembered that I had volunteered to make a cake for a fundraiser tomorrow. I was so glad I remembered.
When we arrived at home. Savana watched Angel while I drove to the store to get a cake mix. I had planned originally when I signed up to make a nice vegan homemade cake but it was getting late so I thought a mix would be faster.  Back at home I was looking up how to make the cake vegan by replacing the eggs. I saw that I could use vinegar and baking soda. So I mixed some up and added it to the batter and put the cake in the oven. While I cake was cooking, I pickup up the house, swept the floors and finished writing my blog while Angel took a bath.
When the cake was finished, it looked perfect. I took a tiny piece from the side and tasted it. I am so glad I did because the cake tasted horrible! Too much baking soda. Ok, I guess homemade it is! I looked up a vegan cake recipe and whipped it together (that would have been easier to do in the first place…lol), I took a tiny taste of the batter, it was good to go, so I put it in the oven. While it cooked, I took a shower with Angel and we brushed our teeth. Then I realized I hadn't eaten anything for dinner. All I had eaten all day was 64oz. of juice and a bowl of banana nice cream. I checked in with my body and I was not hungry at all, so obviously my body didn't want dinner.
After the shower, I took the cake out of the oven. It looks great! Then we went to bed. It was an incredible day!
Thank y'all for reading my blog and being a part of my life. I appreciate you!
Joyfully,
Victoria