Dear Diary and Friends,
Im feeling called to start blogging my daily life on a regular basis again. It seemed like a lot of people enjoyed that and it felt good to write daily. Though I might not write everyday, it will be on a regular basis.
I woke up at 7am, it was slow waking up and was mostly motivated by having to pee. I went to bed late last night due to working late so I was lacking a little bit of sleep. I went pee and got back into bed. I listened to the audiobook "Ask and it is Given" by Ester and Jerry for an hour until Angel woke up. She climbed out her hammock and dropped down into my hammock that is directly below hers. We cuddled for a few minutes before getting up and going into the kitchen.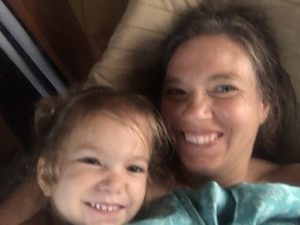 In the kitchen, I folded laundry, put away clean dishes, took a shower with Angel and opened up a couple of coconuts. I used the water in one coconut for a banana, strawberry smoothie and drank the other one. I scraped out the coconut meat and Angel ate it for breakfast, along with some mango and smoothie. I made another smoothie with cantaloupe and fresh squeezed OJ.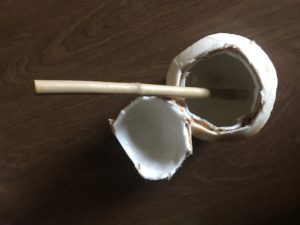 While I was doing all of this my friend Yuliya (who is staying with me for a couple more weeks) came into the kitchen and talked to me for a little bit. I apologized that I wasn't able to fully focus on talking to her but we could talk another time. She was very understanding as always. I really enjoy Yuliya.
If I rushed I could have made it to church but I decided to not rush. I sat down and wrote out my morning gratitudes and got centered. Ahhh…I felt much better and peaceful.


I got Angel in the car at a slow and relaxed pace which tends to go more smoothly than when I try to get a 3 year old in the car quickly. I packed our lunch and dinner figuring we would be gone the rest of the day. 2 64oz. smoothies for me. Avocado, mango and coconut for Angel. As I was heading out the door I noticed the recycling bin was very full. I put it in the car and drove to the recycling center where I emptied it and took it back home (the small town I live in has a recycling center but no curbside recycling service but it's kust down the road from me and a quick drive). On the way back home I stopped and gave the neighbors horse Rein some old pears that I brought along to give to her.
We headed out again and on the drive to Austin I listened to more of my audiobook and Angel watched Super Why on my old phone. I also talked to a dear friend on the second half of the drive. I also drank half of a smoothie.
Our first stop was HMART to get coconuts. I got 2 cases. One for me and one for Yuliya. I was hurrying because I was scheduled to sign in to do deliveries in 15minutes. I realized that I was rushed and immediately signed out of doing deliveries until later in the day and slowed down. That felt much better and now I had time to leisurely go to the bathroom which I really needed to do.
After leisurely going to the bathroom and putting the coconuts in the cooler in the car, I drove to the grocery store. I suddenly felt very very tired. I parked far away from the store in a shady spot and took a half hour nap while Angel watched Super Why some more. When I woke up I felt refreshed. I drank the other half of my smoothie and we went into the store.
In the store I bought a bunch of huge mangos for a great price of $1.38 each. I also bought more fresh squeezed OJ and cotton candy grapes. I finished shopping and had the perfect amount of time to get to my job working for George. At George's, I folded clothes, helped with Angel playing in the pool and made a grocery list.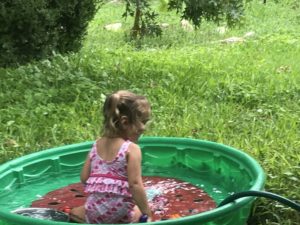 Then I went to the store to get groceries. I drank half of my other smoothie on the way. At the store I started feeling tired again. That late night working last night zapped me. Lol. I thought I might cancel doing deliveries after working for George like I planned. I would see how I felt after work. I had so much fun doing deliveries yesterday I was excited to do more today.
After getting groceries I went back to George's. I put the groceries away, finished drinking my smoothie, folded more laundry and had fun talking with George's girlfriend Peggy. When it got close to being time to go, I checked in with myself on what felt best…doing deliveries after work or going home. Going home felt amazing so that's what I decided to do. On the drive home I talked to my sister.
At home, I put all the produce away. Yuliya and Angel helped. Then I talked with Yuliya while I made and ate a big salad, with mixed greens, cucumber, mushrooms and lemon tahini dressing. Then we played ball with Angel for a few minutes.
I took a shower with Angel and got into bed and wrote my blog. We are in bed early. Yay! I will take my turns on words with friends, read a little and go to sleep.
Thank y'all for reading my blog and being a part of my life.
Joyfully,
Victoria