I woke up yesterday morning with a start. What time is it? Oh good, it was 6:13am. I was doing a farmers market and needed to be fully set up at 8am, which meant I needed to leave at 7am.
I sat quietly in prayer and meditation for a few minutes to get myself centered. Then I was up and going. I took a quick cold shower, got dressed and started loading up my boyfriend Fred's car with plants to sell. Fred helped and it didn't take long. Everything was flowing nicely. We had a few more things to load into my car and we would be ready to go. I drove my car out of the garage and around back near the greenhouse, so it would be easier to load up. I got out and tried to open up the hatchback, it wouldn't open. I tried the doors, they wouldn't open either. Then the realization hit me. My car had locked itself with the keys and my purse inside. No, no, no, no, no. I felt frustration and anger bubble up. I started swearing and kicked Angel's tricycle. My mind was reeling. Then suddenly, I received clarity and saw the pointlessness of making this an issue. I let go let the feelings flow through me without hanging onto them. Thankfully I had my phone and I called AARP, my awesome roommate Nick had added me onto his plan a couple of years ago. I felt frustration flare up as I talked to the AARP rep. on the phone as it was taking a while. Each time the frustration flared up, I consciously let it flow through me. AARP said they could send a locksmith out in a couple of hours free of charge. Yay! Except, I needed to get to the market before then. I made a smoothie while I thought of what to do. I wasn't very enthusiastic about doing the market because it was on one of my days off, so maybe this meant I wasn't supposed to go. On the other hand, Fred and I had done a lot of work potting plants and getting everything ready. Also I had no contact information for the market manager, so I had no way of letting them know I wouldn't be there. I was going through this thought process and I suddenly knew what to do. I was to take the motorhome RV. Taking the RV had been my original plan anyway but since we've had so much rain there was a chance it would get stuck in the mud when driving it out. So I had switched that idea to taking 2 cars instead. Well now I switched back to taking the RV. I woke Savana up so she could meet the locksmith when he arrived and move her boyfriends pickup that was blocking the RV. Fred and I finished loading everything in the RV. Angel woke up and was wondering what was going on and why she wasn't getting fed right way but was excited to get to ride in the RV. I packed our food and we were ready to go. Fred was going to meet us there after stopping to get change with his money and I would pay him back once I had access to my purse again.
The RV pulled out without any problems. It was fun driving it the 15 miles to the farmers market. It ran great and I was glad it was being driven since it had been sitting a while. I arrived at the market right at 8am. There were no customers yet and I was able to start setting up without hurrying. Fred arrived and helped. He had brought a canopy tent from his house for us to use but it wasn't a pop up one and it wasn't coming together right. I asked if he would be willing to go buy a pop up tent and I could pay him back along with the money he loaned me to use at the market. He was fine with that and came back with a really nice tent that set up easily.
The first couple hours of the market were slow and I was thinking this whole thing was a pointless waste a time. I was grumbling and expressing my thoughts about this to Fred. He was probably tired of my negative attitude when he said, "just think of it as sitting here enjoying the day while supporting the local community and being a part of making this market possible"….or something like that. Ah ha! I realized I had been breaking my rule of no complaining AND that I was making this about money. I received clarity about making this volunteer time, after all, I did promise God to volunteer 5 hours of my time a week a year or so ago. This pretty much covered that! Plus, I'll have bonus volunteer time for what I do for the church. Yes!! I'm giving God even more than I promised and I really like that!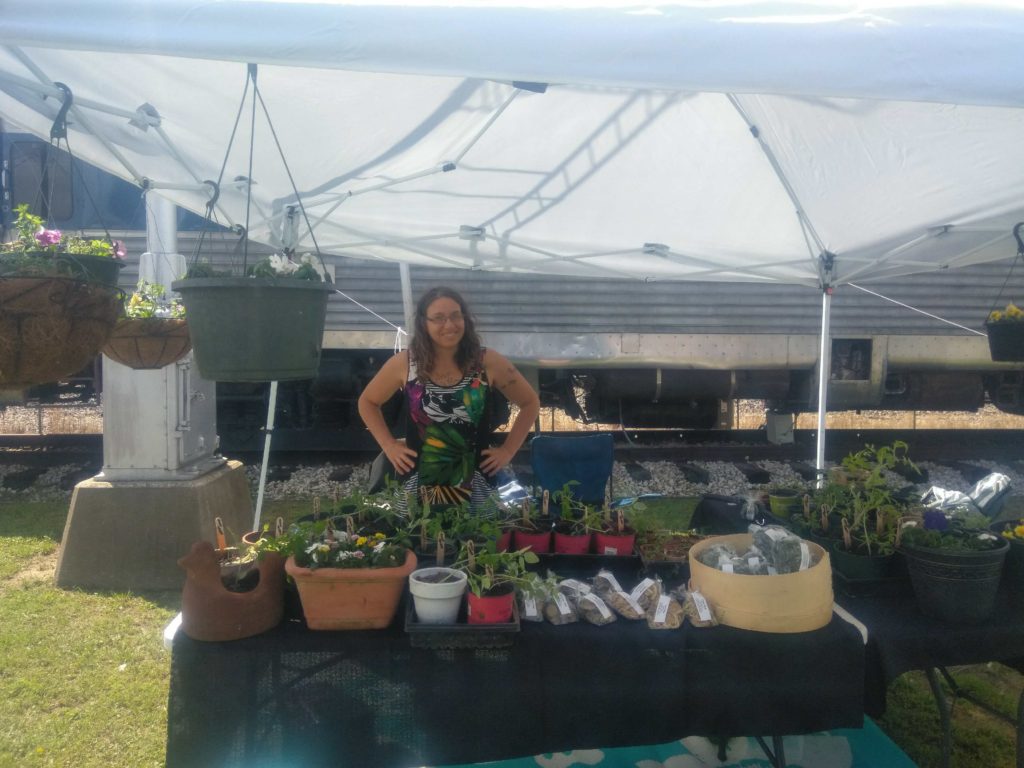 The last couple hours of the market picked up some and I made enough to pay Fred back for everything plus have $4 for myself. Woohoo! A gift from God. I drank 64oz. of fresh OJ and ate 3 apples during the market. Angel ate seeds, some apple and had her smoothie. After the market, we loaded up and headed home. At home all had gone well. My car was unlocked!
I was super hungry. I ate 2 perfectly ripe mangos and 32 oz banana, strawberry, spinach smoothie. I was full and happy. Fred and I unloaded the vehicles. Then I set up a blanket and pillows under the peach trees. We laid there for a few hours talking, watching the sky, writing, reading, playing with Angel and doing nothing. It was blissful.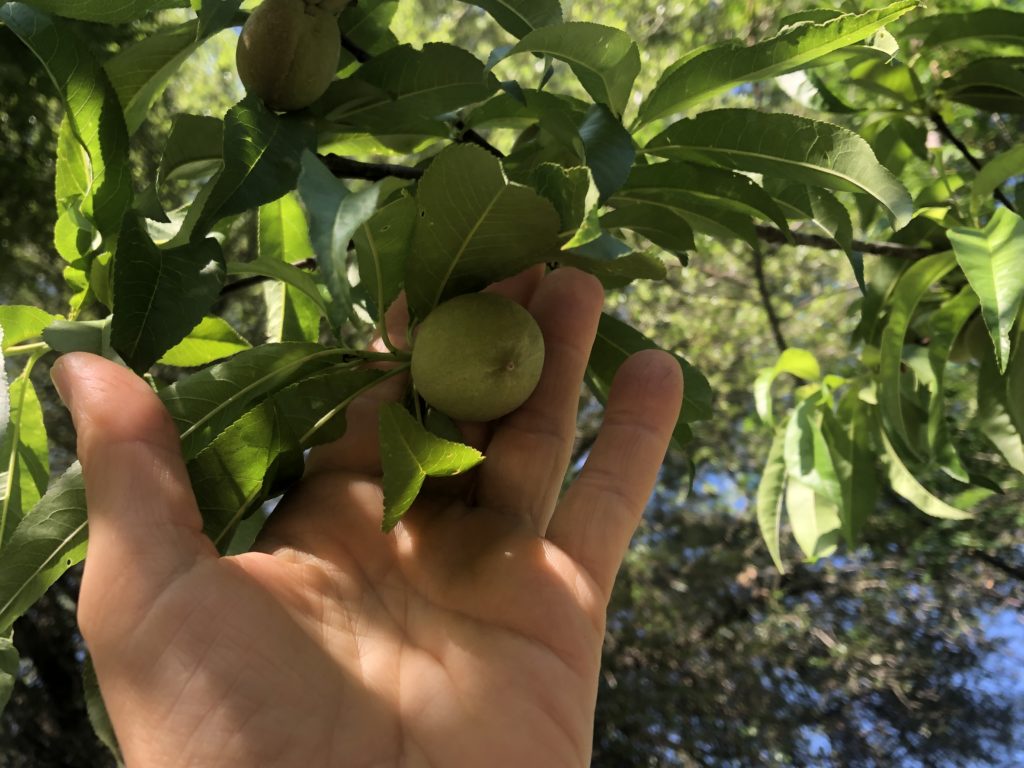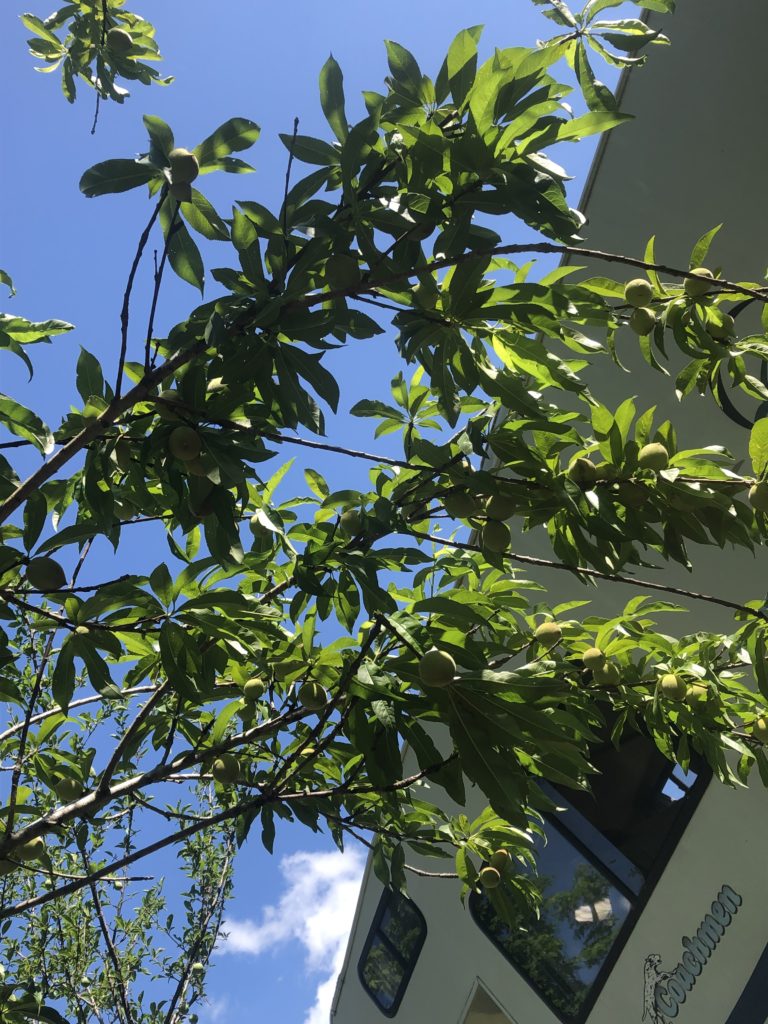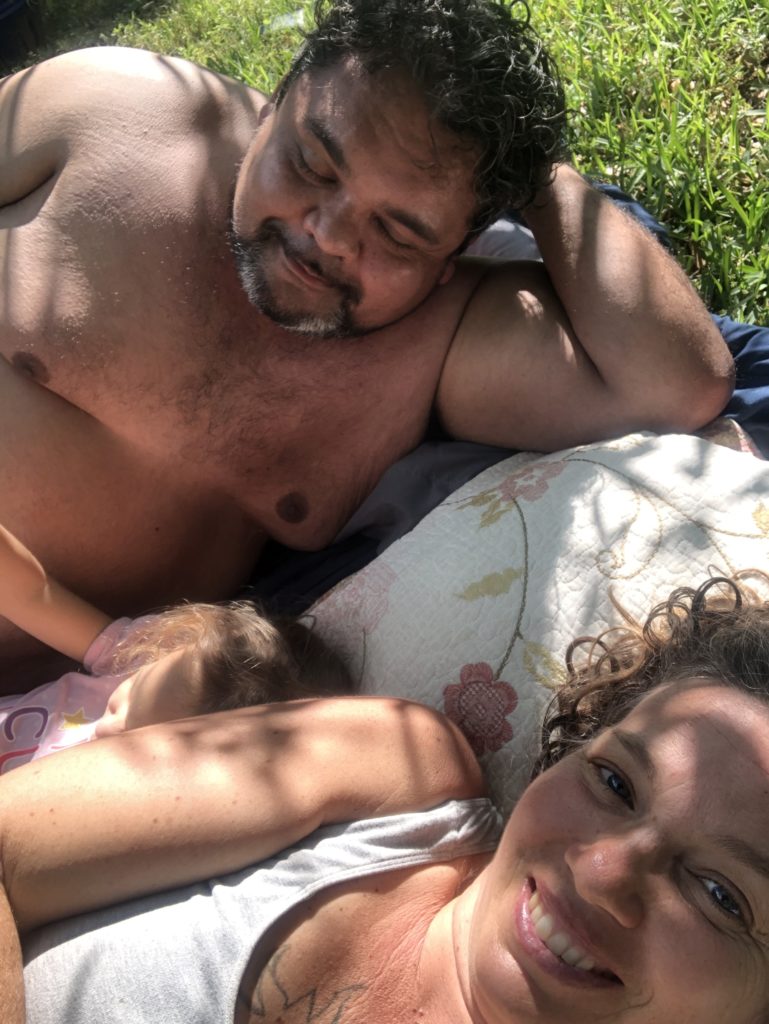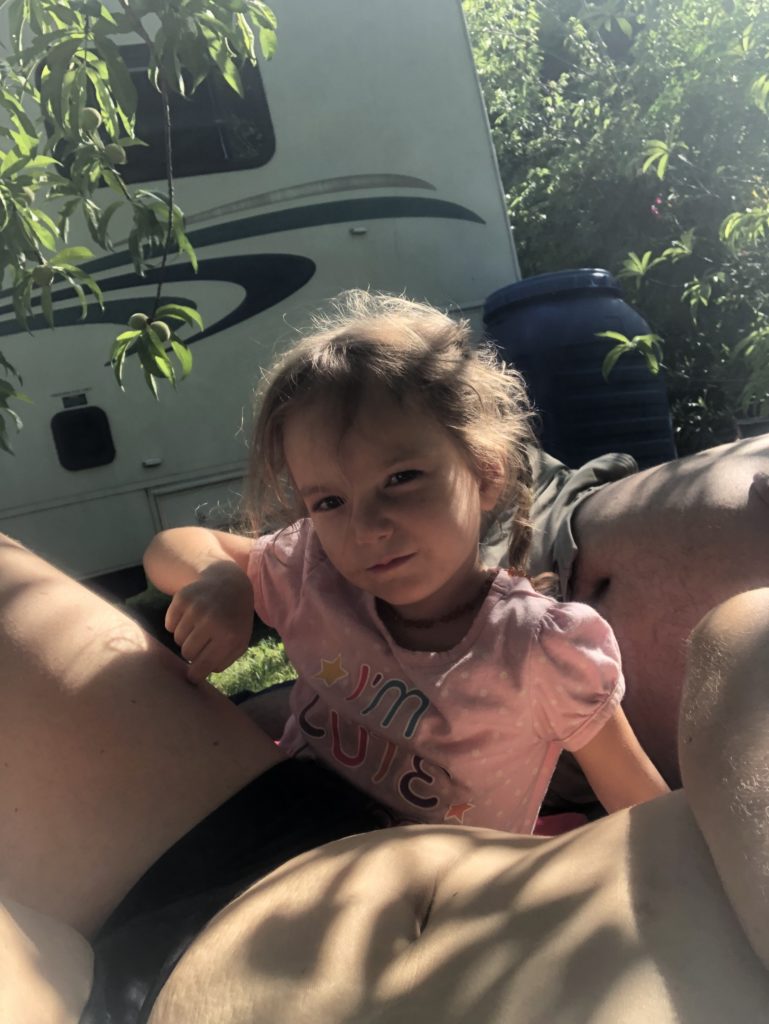 We came in the house and enjoyed some banana nice cream, then went back under the peach trees.
For dinner I made steamed curry mung beans with onion and celery. It was super yummy. It was getting later in the day. Fred went home to spend time with his family and I went on a walk with Angel. We found a mulberry tree on our walk.
After our walk. We read stories and went to bed. I fell asleep right away and slept deeply. It had been a blissful day and I am grateful.
Thank y'all for reading my blog and being a part of my life.
With love and gratitude,
Victoria